01 Feb

Luxurious Love

With Valentines Day just around the corner, the Team at Lavender Green Flowers are getting all soft and melty. With a complete product range re-design, new Midnight Roses on order and a show stopping display being made up as I type, it's safe to say that this year is going to be the most romantic yet!

Our Valentines displays have become somewhat of a tradition for us. One that we get clients talking about for a full 12 months after it first goes up outside our gorgeous little Fulham Road store, so the pressure is on to beat last years!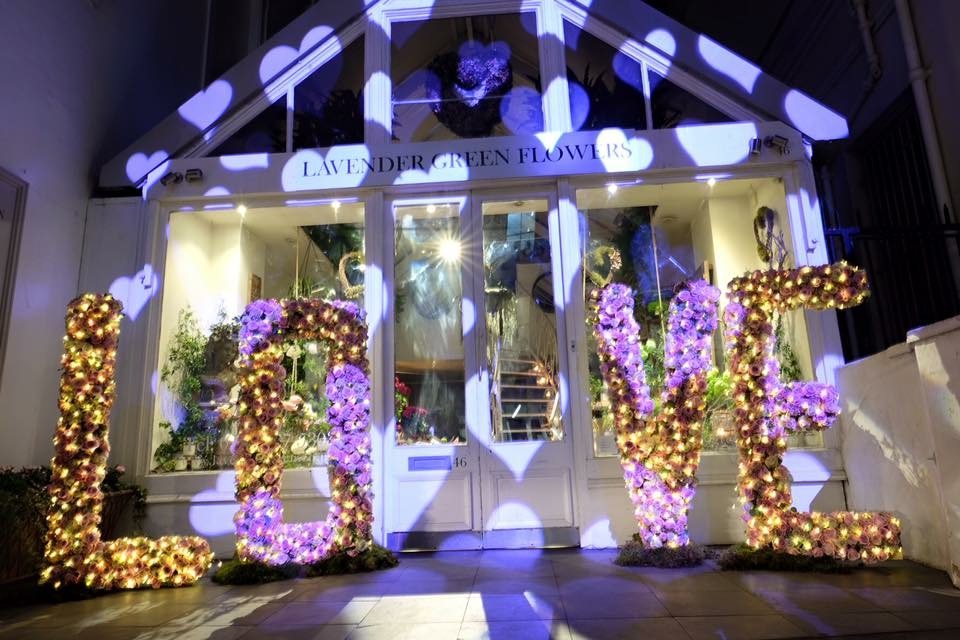 We opened the doors to our Chelsea based store in late 2015, and shortly after followed our first Valentines Day. Lavender Green Flowers provide designs for over 2000 Events a year and 100 Weddings, so having historically focused on those, we got terribly excited about our first Valentines! Our display was gorgeous, and you guys weren't shy in telling us. The giant Heart of Flowers was the backdrop to literally thousands of photos, and if your generous comments didn't make our heart melt, your beaming smiles definitely did.
2017 saw our giant LOVE letter design, which was also adored by the masses, we had Labradors posing with them, children climbing on them (naughty, naughty), celebrities stopping their cars for a photo opportunity and even a proposal! The online reaction definitely over took the previous years, and so my anxiety began to build… how on earth was I going to top all of that?! Careful planning would do it, I was sure…
Impulsive Love
I start designing our displays in November, once our Store Christmas install is complete. I scribble sketches down, jot notes everywhere, scour the Internet for inspiration and only then am I ready to sit with our Store Manager India to see what is possible. This year was slightly different however. We sat down, ready to go full, Love-Train on the paperwork in front of us and then out of nowhere India had to put up with me chucking all of my ideas out of the window and coming up with a completely new design based on an Instagram post I'd seen whilst waiting for her to find a pen. I don't know what came over me, but boy am I pleased with the result!
So, with no sketches, no notes and only one photo for inspiration, India managed to transform my impulse idea in to a very real design (she's good like that!). I wish I could say more, honestly, my fingers just want to type it all out of my system for you to get as excited as I am… But I'm told that good things come to those who wait and so, for the first time in my life, I'm going to control myself. I simply can't wait for you to see it, love it and share your photos of it!
Lots of Loooooove, Babs x
#46FulhamRoad #LavenderGreenFlowers – Tag us on Insta: @LavenderGreenFlowers and I'll send some of you swoon-worthy, people a bouquet filled with LGF luxurious love!